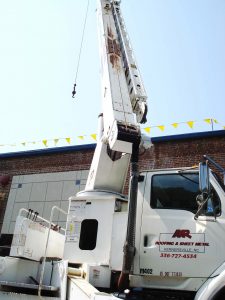 Re-roof, New & Design Build, Roof Recovery, Retrofit and Restoration services, Repair and Preventive Maintenance programs and free roof assessments.
We specialize in all Major Roofing Systems:
Built-up systems, Single-Ply, Green Roofs and Architectural Standing Seam Metal.
AAR covers the entire United States and we have a work force of 140 employees. We have highly trained crews running at all times, some crews specialize in rubber or built-up roofs, others in thermoplastic, modified bitumen, green roofs, architectural standing seam metal or maintenance and repair. Because AAR can install all types of commercial roofing, we can make an objective evaluation of your needs then recommend the right roof or repair for your facility and your budget.
North Carolina Roofer – Metal Roofing Greensboro, NC – Sheet Metal Fabrication, Roof Maintenance and Repair